Sweetest Carnivals around the Caribbean|| Caribbean Top 5
Carnival is an integral part of life in the Caribbean. Festivities are always an explosion of colour, creativity and care-freeness.  Celebrations are sprinkled with traditional mas characters and the world renowned J'ouvert or 'Dutty' Mas Celebrations. No Caribbean Carnival is complete without a healthy dose of steelpan, calypso and soca music resonating sweetly through the air. And, of course, there are the  non-stop parties that have challenged the stamina of some of the fittest athletes. Each Caribbean island adds its unique flavour to the festivities that have attracted from all around the globe. Its a definite bucket list items for the culturally curious and the adventurous.
Check out our list of Top 5 Sweetest Carnivals from around the Caribbean. 
Cast your vote and tell us what other carnivals should be listed.
1
TRINIDAD AND TOBAGO Carnival DATES: 27th & 28th February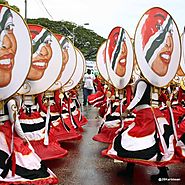 Known as the biggest street party on Earth- Trinidad and Tobago's Carnival is officially celebrated on the Monday and Tuesday before Ash Wednesday every year. The Carnival festivities start just after Christmas and continues until Ash Wednesday-loaded with dozens of high energy parties and premier cultural competitions.
Carnival Monday opens with J'Ouvert at 4am, when revellers parade through the streets immersed in paint, grease and mud until sunrise. Later in the day on Monday and all day on Carnival Tuesday, thousands of masqueraders flood the streets throughout the islands in bold, colourful costumes, dancing through the parade routes to the exhilarating sounds of soca, steelpan and calypso music.
2
CROPOVER|| Barbados DATES: 7th August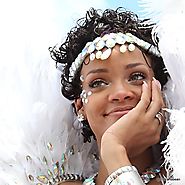 The Crop Over Festival in Barbados which ends with the spectacular Carnival/Kadooment Parade, is the season used to celebrate the ending of the local Sugar Cane harvest, and is distinctly unique from the Carnival festivities in other Caribbean countries.
Crop Over festival has been around since the 18th century at a time when Barbados was at its prime in the production of sugarcane. Crop Over festival lasts from May to August and throughout the years it has snowballed into a hive of activities.The festival is packed with events that keep Barbados and visitors on their feet (pun intended). Soca Limes, Cavalcades, Arts and Crafts Symposiums, Junior Monarchs, Crop Over Farmers Market, Crop Over Opening Gala, Visual Arts festival, Pan in de City, Pan Pun de Sand, Pic-o-de-Crop Calypso Competition, Laff-It-Off Productions, Bridgetown Market, Foreday Morning Jam, Sunrise Beach Party, Cohobblopot and Grand Kadooment.It is for this very reason that Crop Over in Barbados has stuck true to its slogan of being "More than a Carnival... Sweet fuh Days".
3
SPICE MAS|| Grenada DATES: 14th August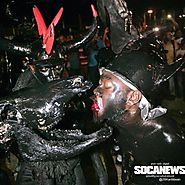 The Carnival devils disappear with the rising of the sun, making way for the Traditional and Fancy Mas bands in the Monday parade or Pageant.
Each parish has its own brand of traditional mas usually represented by Short Knees, Vekou and Wild Indians. With Arab-like head coverings, jumbo collars, batwing sleeves and three-quarter (short knee) baggy trousers, the Short knee Bands are now the most prevalent of the traditional masqueraders. Almost identical in appearance, they dance through the roads from their respective villages, into the town of St. George's, passionately chanting, boxing the air and scattering baby powder with abandon
4
SUGAR MAS || St Kitts/Nevis DATES: 1st& 2nd January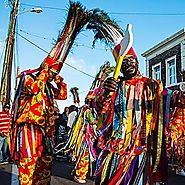 The yearly event takes place yearly usually beginning from Christmas Eve ringing in the New Year and ending in January. The spirit of Christmas and carnival are combined which does not usually occur in Caribbean carnivals. Carnival in St Kitts and Nevis consists of many different activities such as calypso shows, beauty pageants, masquerade troupes among others. Prizes are given to the best J'Ouvert troupes, Road march Champions, King & Queen of the Bands to name a few.
5
DOMINICA Carnival DATES: 27th & 28th February
Held at the traditional pre-Lenten time, it involves two days of 'jump-up' in Roseau and other villages as well as parades, Calypso and Carnival Queen contests. Carnival starts with a grand opening parade and includes events such as Pan By the Bay, a Carnival Queen show, the Calypso Monarch Show and the two days of traditional jump-up, Carnival Monday & Carnival Tuesday.
On Ash Wednesday, there is also 'Vaval' - the closing of Carnival, held in the village of Dublanc and in the Carib Territory.
More Information Here
6
JAMAICA Carnival || DATES: 23rd April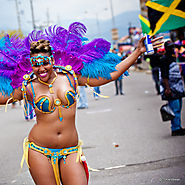 In 1989, the late Jamaican music pioneer, Byron Lee, along with a small band of believers, conceptualized a plan to bring the music, energy and vibe of Trinidad & Tobago's annual Carnival event to Jamaica.
Despite the numerous doomsday predictions of failure by many "established" critics, Sunday, April 22, 1990, marked the very first Mas festival which united Jamaicans musically, culturally and socially, as Byron Lee & Friends staged the first-ever Jamaica Carnival (which featured a week of activities from April 14-22, 1990), an event which has since evolved to become one of the biggest annual events in Jamaica, and undoubtedly, the Kingston Metropolitan Area's premier festival.
7
BAHAMAS JUNKANOO Carnival || Dates 4th-6th May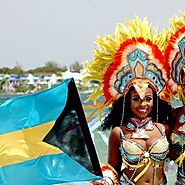 Its branaded as the Only Carnival in the world to take place on a Beach. Bahamas Junkanoo Carnival kicks off its vibes in grand style beachside on Grand Bahama Island with two days of concerts, where the country's newest and hottest singers square off in a competition that's a mix of music mastery. Then it's off to Nassau, New Providence to the beachside Cultural Village for our mega concert and much anticipated costumed revelry through the island's streets. In two weekends Bahamas Junkanoo Carnival delivers the perfect dose of Music Culture and Vibes.
8
ANTIGUA Carnival || DATES 1st August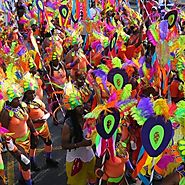 For the history of the festival you have to step back in time to 1st August 1834 when slavery was abolished. People immediately celebrated by taking to the streets to celebrate their freedom and express their joy and happiness. Over the years there was a return to this informal celebration until 1957 when the first official Antiguan Carnival was organised. Since then the festival has developed into 10 days of music, dance and revellery, with street marches, jump-ups and formal evening shows – calypso, pan, and Carnival Queen pageants – always around the last week in July the first week in August.
Top 5 Caribbean Carnivals
MISSION: To elevate the brand of Caribbean culture in the fields of MUSIC, BUSINESS and the ARTS by celebrating the work of cultural ambassadors while advocating for upcoming Caribbean talent1.